Cowshed Cabin Farm Location
Ride from the Cabin to miles of trails.
Cowshed Trail, between Cemetery Road and Silver Hill Road was used as a path for moving cows from one pasture to another. At one end, it is a one lane, tree-lined, dirt road that is bordered by woods and open fields. It expands into two lanes halfway through, where about a dozen homes have been built. Cowshed Trail is in the midst of the trail network that encompasses West Windsor, Hartland, Reading and South Woodstock. It is often a part of GMHA or other locally sanctioned distance rides, so it is common to see riders or drivers enjoying their sport or just out for pleasure. From the property, you can ride or drive directly onto the dirt roads and trails that offer hours and even days of beautiful vistas, good footing and sometimes even a challenging terrain.
Directions to Cowshed Cabin Farm
Cowshed Cabin Farm is located at 251 Cowshed Trail in West Windsor, VT 05089.
From the south:
Exit 8 (Windsor) off of route 91 north. Right off the exit, go 1/2 mile, and then turn left on route 5N. About 1/2 mile turn left onto route 44A. Merge left onto route 44. Go past Mt. Ascutney, and look for the Brownsville Butcher & Pantry on the left. Turn right onto the Brownsville Hartland Road. Go about 2 miles, turn left on Silver Hill Rd. Go one mile and look for Cowshed Trail on the left. Turn left on Cowshed Trail. The property is the first house on the left.
From the north:
Exit 9 (Hartland) off of 91 south. Turn right off exit. Go about a mile and bear left and immediately turn left onto route 12N. Go about a mile and turn left onto Brownsville Hartland Rd. (Left turn is at Hartland four corners. When you turn, Skunk Hollow Tavern will be on your right.) Go 5 miles and turn right onto Silver Hill Rd. ( If you see Knob Hill or Cemetery Rd., you have gone too far.) Go one mile and turn left onto Cowshed Trail. The property is the first one on the left.
From GMHA:
Go up Morgan Hill (off route 106 at the fire house) one mile to the top of the hill and take a left onto Reeves Road. In about a mile the road bears to the right and turns into Silver Hill. After about a mile, look for Cowshed Trail on your right. The property is the first house on the left.
Area Attractions
Your Hosts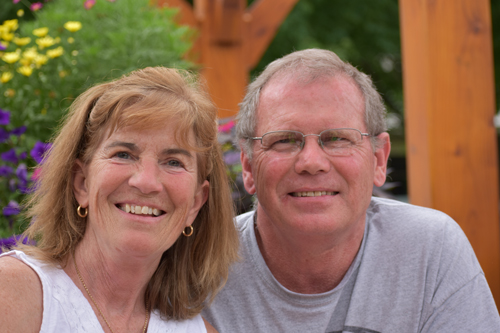 Marty Hunt
Connecticut native Marty Hunt is a lifelong horse lover and rider, mother and grandmother. She retired from a 35 year career in economic development in Connecticut working for local, state and private nonprofit organizations. She moved to Vermont in 2007 and set up this horse and rider vacation business to share this amazing New England horse-centric community.
Marty was the Executive Director of GMHA for 4 years from 2009-12, and is currently on the board of Ascutney Outdoors. Marty and Mark live in Vermont year-round with their 3 dogs and 2 horses (and they both love to dance!)
Mark Wood
Mark Wood is from Chazy, New York. He taught high school science, and was a special ed technology consultant and a hardware technician at IBM. Mark spent 9 years as a white water rafting guide on the New River and Gauley in West Virginia and has been a ski instructor and a ski racer. He has built and flies an experimental class plane and has developed a prototype for a propane powered foldable moped.
Mark is a frequent volunteer at Ascutney Mountain during the ski season.